Micro Mutant Postcard #173
(listen to the poem, read by the author)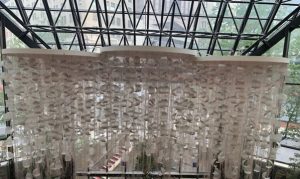 Peaceful Crip coexistence might still be a possibility, even if it's a bit of a stretch. Mr. Sinister has never been the best to debunk those Mad scientist tropes. Aren't his CRISPR chips just the worst? Even the ableist avocados need to be avenged, right?
Image description/alt-text: Overlarge, multi-faceted glass chandelier hanging inside a vast windowed hotel atrium, appearing almost like a large, transparent jellyfish looming over those who may walk or sit underneath it. Outside the atrium windows are vague outlines of buildings and green trees. A lone stairway appears slightly behind and partially hidden below the chandelier.
Back to Top of Page | Back to Poetry | Back to Volume 16, Issue 2 – Summer 2022
Micro Mutant Postcard #175
(listen to the poem, read by the author)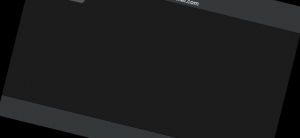 Never idle, my Crip cultural references are quite expansive, but way off kilter. Wide enough, though, to circulate around the calamitous circus rides filling the back hall, I simply know too much. The Eye is all powerful. So what if I never take the stairs.
Image description/alt-text: Tilted screenshot of a web browser. The end of a ".com" URL in white lettering appears at the very top; the rest of the URL is cut off. The large majority of the screen is black and empty, bordered by thick gray bars at the top and bottom.
Back to Top of Page | Back to Poetry | Back to Volume 16, Issue 2 – Summer 2022
Author Note:
The Micro Mutant Postcard Project is an ongoing endeavor seeking to meld poetry, confessions, memoir, and imagery with pop culture, especially comic books, and identity, including disability, using specific conventions to bring forth creativity and explore intersections the author has perhaps not yet publicly revealed.
Kudos go to Diane Wiener, Stephen Kuusisto, Dan Simpson, Ona Gritz, Minnie-Bruce Pratt, Emily Michaels, and my 2012 Maymester WRT 438 Advanced Creative Nonfiction cohort at Syracuse University, for their contributions to this endeavor.
Select postcards were published as Flash Memoir in the December 2020 issue of Wordgathering; other postcards were published in the Summer 2021, Fall 2021, and Spring 2022 issues of Wordgathering, as well as a Micro flash contribution for the "spooky" issue of Stone of Madness Press.
Some postcards are memoir, others manifestos, and many are confessional, either addressed to pop culture figures and characters or written as self-revelations and larger burning or rhetorical life questions.
Back to Top of Page | Back to Poetry | Back to Volume 16, Issue 2 – Summer 2022
About the Author
Rachael A. Zubal-Ruggieri is the Administrative Assistant of the Office of Interdisciplinary Programs and Outreach at the Burton Blatt Institute and Assistant Editor of Wordgathering. Mother to an Autistic teenage son, Rachael writes and presents about neurodiversity and autism parenting, seeking to debunk and disrupt traditional representations of "the autism mom." She is a recent cum laude graduate of the Human Development & Family Science program at Falk College, with a Disability Studies Minor, at Syracuse University (SU). Her research interests include Creative and Design Thinking, Technical Documentation and Usability, Technology and Disability, and Parent and Family Involvement in Education. Rachael has dedicated her career to improving the lives of people with disabilities, including broad-based support to multiple disability rights initiatives on campus, in the CNY area, and nationally, through many grant-funded projects and opportunities and via long-term relationships with community agencies and programs. Rachael worked for over 30 years at the Center on Human Policy at SU. She is a founding member of the university's undergraduate disability rights organization, the Disability Student Union (DSU). Rachael's current activities include her roles as Co-Advisor of the Self-Advocacy Network (formerly Self-Advocates of CNY), and as a Board Member of Disabled in Action of Greater Syracuse, Inc. Rachael is also co-creator (with Diane R. Wiener) of "Cripping" the Comic Con, the first of its kind interdisciplinary and international symposium on disability and popular culture, previously held at SU. At conferences and as a guest lecturer, she has for many years presented on the X-Men comic books, popular culture, and disability rights and identities.