Micro Mutant Postcard #41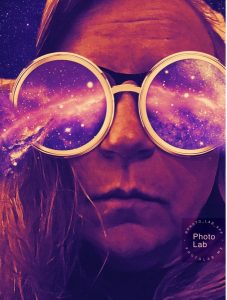 (listen to the poem, read by the author)
Expertise is a tasty craving, but I worry I've paid the price. I seek the Cyborg, but I'm the ass in the chair, the voice in your brain, the Crip solution, cracking the code. Knowledge isn't a crown, it's the fist that smacks my chin.
Image description/alt-text:  Stylized selfie of the author in a violet purple hue, unsmiling, wearing artistically rendered glasses that have circular lenses with an outer space background. Starry, purple nebulae are exploding out of each lens to the left and right. In the lower right-hand side is a semi-transparent watermark with #PHOTOLAB and photolab.me.
Back to Top of Page | Back to Poetry | Back to Volume 15, Issue 3 – Fall 2021
Micro Mutant Postcards #44 & 45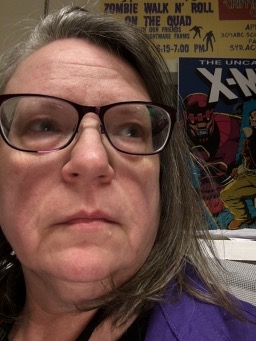 (listen to the poem, read by the author)
My Days of Future Past are made up from a suit of fragmented cloth, with darts of things I wish I hadn't done; lapels of laziness with a sheen of laconic good; pockets of painted pain with perhaps a patch or two of pride; pants fabricated from shady sheaths of regret, forever smudging, creased by unstable molecules of fervor from using my power for good. The seams are sewn with radioactive thread from my Mad skills; a blob of shellacked protoplasm decorates my chest; my emblem is far from static.
Image description/alt-text: Stylized selfie of the author, unsmiling and wearing a purple jacket, looking to the right at something off camera. Behind them on the wall above their head is a yellow lawn sign with the words "ZOMBIE WALK N' ROLL ON THE QUAD" with two small zombie-like figures in silhouette. Next to them on the right, is a cut off, plaque-mounted poster made from the cover to the trade paperback edition of "X-MEN DAYS OF FUTURE PAST." The poster features the comic book character, Wolverine, standing amongst building debris. His adamantium claws are emerging out of his right hand, and he is looking up to the sky with a distressed look on his face. On the left side of the poster stands a large, purple robotic Sentinel, which has just discovered Wolverine and is leaning forward and reaching out to him with its right hand, ready to grasp him.
Back to Top of Page | Back to Poetry | Back to Volume 15, Issue 2 – Summer 2021
Author Note:
The Micro Mutant Postcard Project is an ongoing endeavor seeking to meld poetry, confessions, memoir, and imagery with pop culture, especially comic books, and identity, including disability, using specific conventions to bring forth creativity and explore intersections the author has perhaps not yet publicly revealed.
Kudos go to Diane Wiener, Stephen Kuusisto, Dan Simpson, Ona Gritz, Minnie-Bruce Pratt, Emily Michaels, and my 2012 Maymester WRT 438 Advanced Creative Nonfiction cohort at Syracuse University, for their contributions to this endeavor.
Select postcards were published in the December 2020 issue of Wordgathering; other postcards were published in the Spring 2021 issue.
Some postcards are memoir, others manifestos, and many are confessional, either addressed to pop culture figures and characters or written as self-revelations and larger burning or rhetorical life questions.
Back to Top of Page | Back to Poetry | Back to Volume 15, Issue 3 – Fall 2021
About the Author
Rachael A. Zubal-Ruggieri is the Administrative Assistant of the Office of Interdisciplinary Programs and Outreach at the Burton Blatt Institute. Mother to an Autistic teenage son, Rachael writes and presents about neurodiversity and autism parenting, seeking to debunk and disrupt traditional representations of "the autism mom." She is a recent graduate of the Human Development & Family Science program at Falk College, with a Disability Studies Minor, at Syracuse University (SU). Her research interests include Creative and Design Thinking, Technical Documentation and Usability, Technology and Disability, and Parent and Family Involvement in Education. Rachael has dedicated her career to improving the lives of people with disabilities, including broad-based support to multiple disability rights initiatives on campus, in the CNY area, and nationally, through many grant-funded projects and opportunities and via long-term relationships with community agencies and programs. Rachael worked for over 30 years at the Center on Human Policy at SU. She is a founding member of the university's undergraduate disability rights organization, the Disability Student Union (DSU). Rachael's current activities include her roles as Co-Advisor of the Self-Advocacy Network (formerly Self-Advocates of CNY), and as a Board Member of Disabled in Action of Greater Syracuse, Inc. Rachael is also co-creator (with Diane R. Wiener) of "Cripping" the Comic Con, the first of its kind interdisciplinary and international symposium on disability and popular culture, held at SU. At conferences and as a guest lecturer, she has for many years presented on the X-Men comic books, popular culture, and disability rights and identities.
Read Rachael Zubal-Ruggieri's review of Brian Koukol's Handicapsules: Short Stories of Speculative Crip Lit, published in this issue of Wordgathering.