This is Dorothy Miles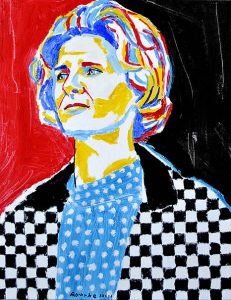 "This is Dorothy Miles" (11" x 14" Oil on Canvas, 2011)
This is Dorothy Miles in her checkered coat, during her early years in England. Mr. Carl Clayton gave me permission to paint a portrait of her. He is Dorothy Miles' nephew from England. Dorothy's eyes are the most important part of the painting, and then the rest of her facial expression. I tried to use the primary colours as shades, especially the hair. The blue shows the darker shade, while the red and light blue colours are the medium shade, somewhat in between dark and light. The hair strains are the same way as shades. The background has red and black that makes the portrait pop out more, and brushstrokes and scratch marks give it a more "character" look. The checkered coat is quite powerful—that makes the entire image more emotional.
Please visit this issue's Essays section to read "Dorothy Miles:  Experimenting with Poetic Expressions in English and Sign Language Forms" by Karen Christie and the Book Review section for a review of ABC Portraits of Deaf Ancestors.
Back to Art | Back to Volume 14, Issue 2 – June 2020
About the Artist
Nancy Rourke is an internationally-known Deaf artist and activist. She is also a full-time professional artist, she frequently does artist-in-residencies at Deaf schools and promotes De'VIA. Deaf View/Image Art is art that examines and expresses the Deaf experience from a cultural and linguistic point of view through art workshops in community settings. Originally from San Diego, California, she now makes her home in Loveland, Colorado.