Sunburst
Artist's Statement: As my Fibromyalgia progressed, I had to let go and/or reshape a lot of my goals and dreams. One of those dreams was creating large-scale abstract oil paintings. I mourned not being able to be on my feet, painting, and struggled to find a way to retain my creativity. Eventually, I decided to try embroidery. This was a new skill to me, as no one in my life embroidered. At first I did little projects on fabric, but eventually I began to wonder if I could embroider onto the pile of artist canvas that I was struggling to let go of. The piece that you see here is a result of over ten years of self-taught skills and practice. I want to share this piece, as it represents the way I feel during those times when I am laid up with no energy to move, or am struggling with pain. This abstract embroidery piece shows the brightness, boldness, and courage that is still fighting to live inside of me. On the bad days, that fight just sounds like a whisper saying, "keep going" and on better days, when that voice is louder, I take the opportunity to create. This embroidered art is me. It is who I would be without my illnesses: always reaching, bold, bright, and joyful. Sadly, most days this version of me only gets to live on canvas. But it lives.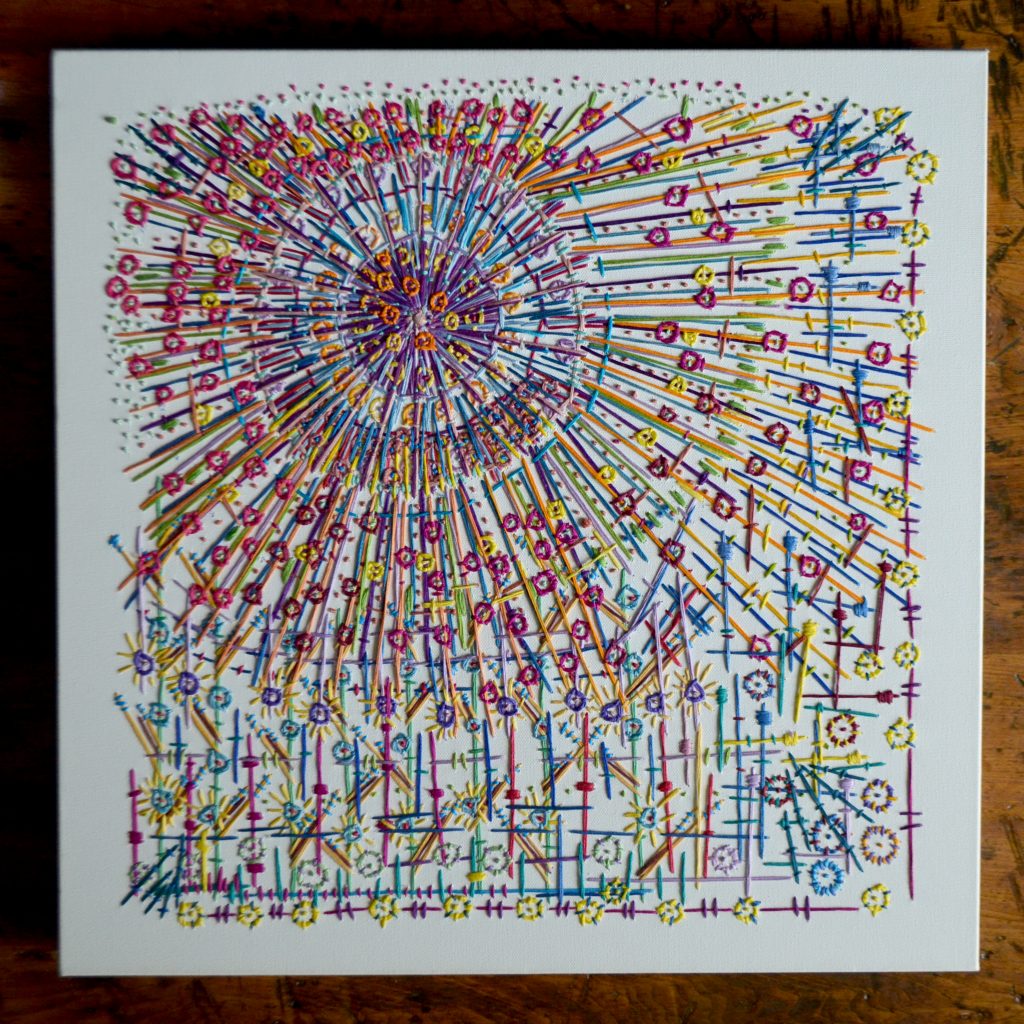 Back to Top of Page | Back to Art | Back to Volume 16, Issue 3 – Fall 2022
About the Artist
Jennifer Carusone lives in Burlington Vermont. Jennifer is a writer, embroidery artist, mother, baker, and lover of beach glass and wildflowers. While Jennifer Carusone enjoys creating all types of embroidery work through her art business PixieTwine, some of her favorite art pieces to create are large abstract embroidery. Jennifer purposely selected embroidery floss from a bright palette, and chose to embroider with thick pieces of floss to ensure the piece communicated boldness. The intention of this piece is to communicate a feeling of happiness, hopefulness, and bravery that is ready to spill out into life but is unfortunately trapped within the confines of the canvas.