What I have learned (Psychiatric Nursing)
2020, charcoal, pastel and collage on lined paper used for practicing penmanship, 36" x 24"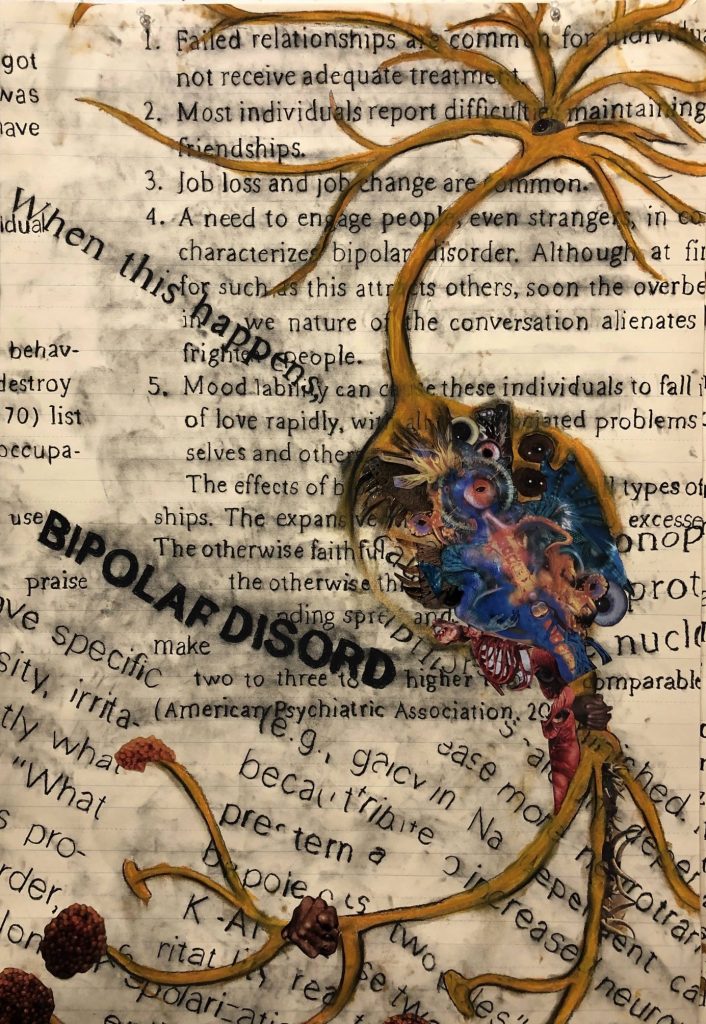 Back to Top of Page | Back to Art | Back to Volume 15, Issue 1 – Spring 2021
What I have learned (Mental Health: Culture, Race, and Ethnicity)
2020, charcoal, pastel, and collage on lined paper used for practicing penmanship, 36" x 24"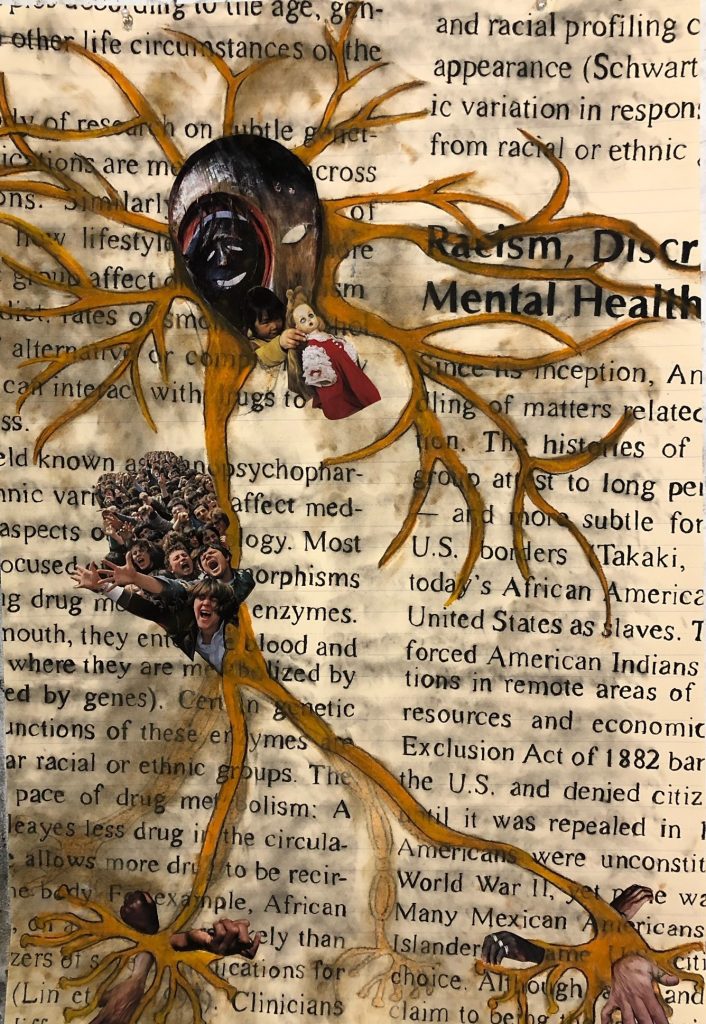 Back to Top of Page | Back to Art | Back to Volume 15, Issue 1 – Spring 2021
What I have learned (Cognitive Neuroscience)
2020, charcoal, pastel and collage on lined paper used for practicing penmanship, 36" x 24"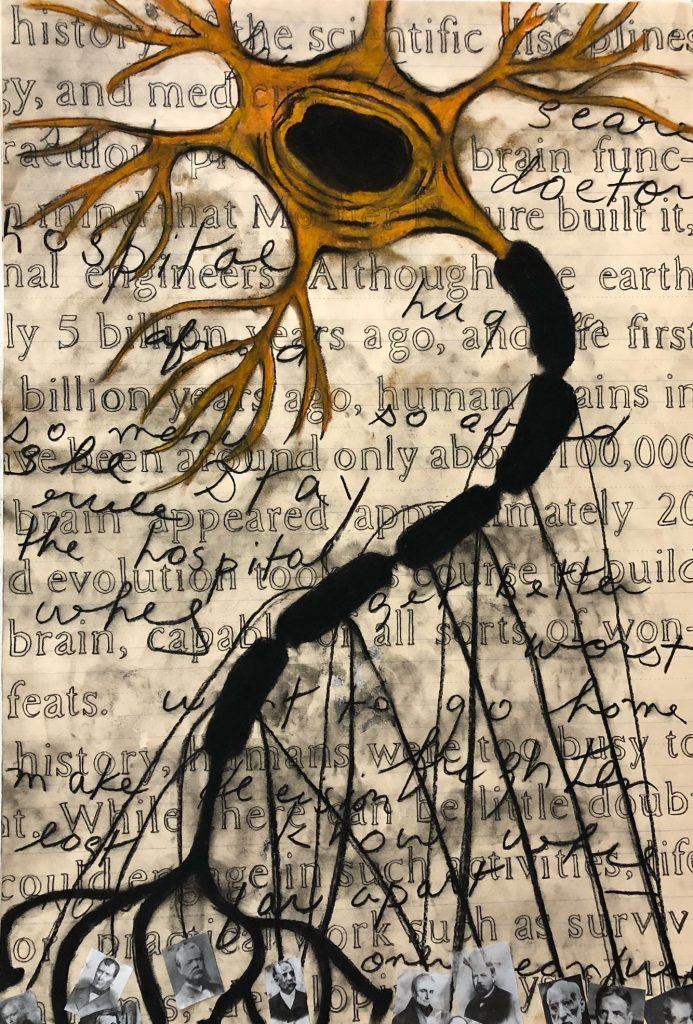 Back to Top of Page | Back to Art | Back to Volume 15, Issue 1 – Spring 2021
What I have learned (Asian American Mental Health)
2021, charcoal, pastel and collage on lined paper used for practicing penmanship, 36" x 24"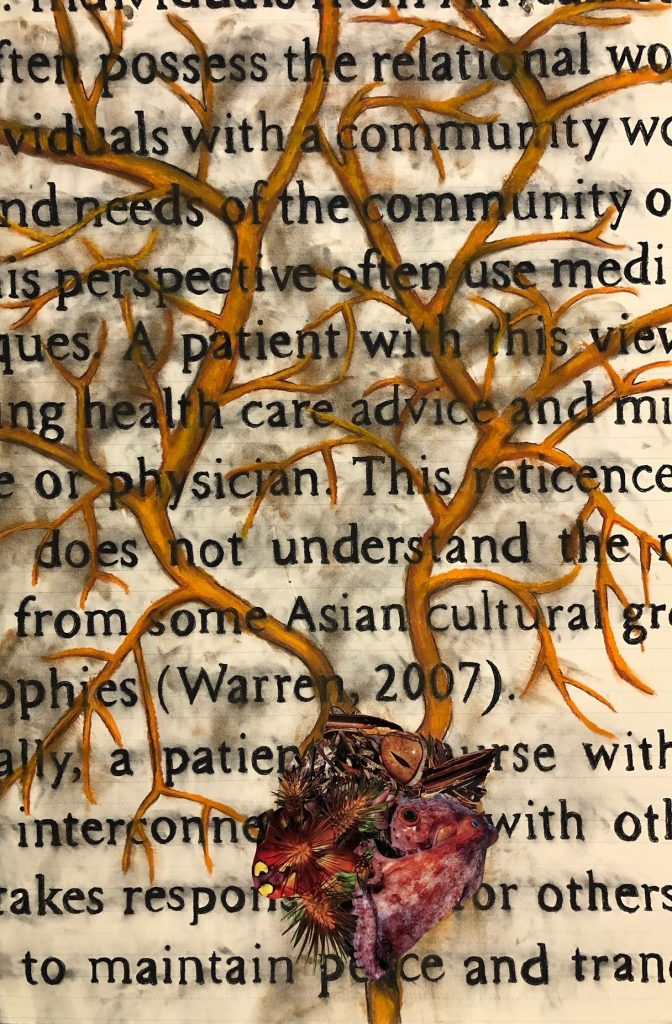 Back to Top of Page | Back to Art | Back to Volume 15, Issue 1 – Spring 2021
Artist Statement
My interdisciplinary practice focuses on the diversity of the lived experience of mental health difference, and the impact of the stigma, inequity of care access and discrimination. This body of work developed based on my personal experiences as someone who was diagnosed with bipolar disorder as a way to grasp and translate their meaning through the lens of disability justice and mad pride I utilize an archive of medication guides, prescription bottles, historical and psychiatric resource materials, and medical texts that reflect mental health conditions and systemic and historical legacies to find strength in vulnerability.
I use charcoal in my drawings as a transformative material that when in activated form is also used to absorb chemical substances such as when a stomach is pumped. I play with scale to magnify and make visible the content of the work and reveal the messiness of process and imperfections as I resist to be contained by the text.
"What I have learned" — is a series of over 50 drawings made on 36" x 24" lined elementary school paper. I wanted to emphasize that sometimes you have to unlearn, critique the source of information and reconcile what is taught with one's lived experience. The large figures that show up in some of these drawings are neurons -bipolar and multipolar that are anthropomorphized as a reflection of my own condition and challenges. Collage is used to create contrast to dislocate the space and scale. Multiple texts are used to disrupt the information and layer personal experience and contradictions of information; for example, medical textbooks, research studies, and handwritten passages that my mom wrote before her passing.
This is an extension of my continued interest to apply personal narrative as a way to share experiences to disrupt stereotypes and to reflect on neurodiversity, contemporary issues and an intersectional identity through installation, multimedia, video and performative actions and ultimately to make the invisible visible and animate the inanimate.
Back to Top of Page | Back to Art | Back to Volume 15, Issue 1 – Spring 2021
About the Artist
Chanika Svetvilas has presented her interdisciplinary work at the College Art Association Conference, Stony Brook University, Denver International Airport, Jamaica Center for Arts and Learning, ABCNoRio, Brooklyn Public Library, Westbeth Gallery, Asian Arts Initiative, and the Wexner Center for the Arts, among other contexts and spaces. Her work is also included in Studying Disability Arts and Culture: An Introduction by Petra Kuppers. In 2020, Chanika curated Unique Minds: Creative Voices, an exhibition of art and creative writing for Princeton University's Mental Health Awareness Month. She is the co-founder of Thai Takes, a biennial Thai film festival presented in New York City (2003-2007). Chanika has a bachelor's degree in Studio Art from Skidmore College and an MFA in Interdisciplinary Arts from Goddard College. She is currently based in Princeton, NJ. Visit Chanika online at: ChanikaSvetvilas.com