January Sunrise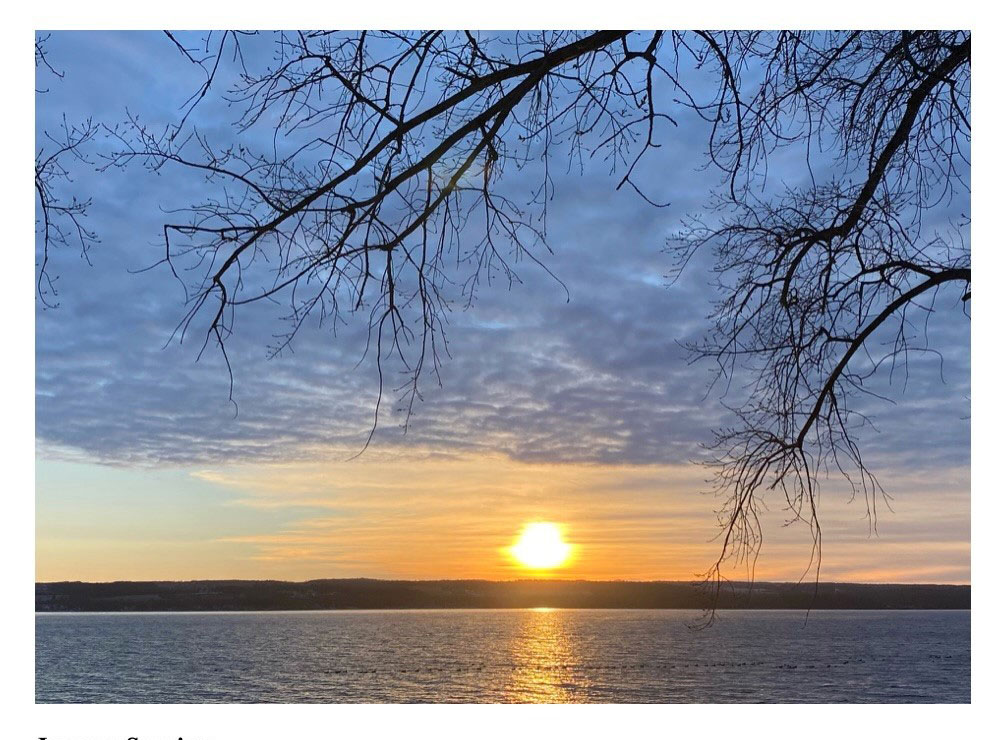 Color photo of the sun rising over Cayuga Lake. Small waves ripple on the surface of the lake, which makes up the bottom "layer" of the photo. Silhouettes of Canadian geese and bufflehead ducks, which appear tiny, can be seen toward the middle of the lake. The eastern shore of the lake rises above the water; it makes up the next layer of the photo. It appears dark in color, as just above the center section of the shore the newly rising sun is very bright–even though it's being slightly muted and distorted by thin clouds. The reflection of the sun shines on the lake beneath it, causing that section of water to glimmer bright orange and yellow. The sun appears in the area of sky which makes up the third layer of the photo. This area of the sky consists mostly of thin, wispy clouds; they look like horizontal brush strokes of white, gray, and different shades of orange across a painting. There is a small area on the left side of the photo, also in the third layer, that is light blue sky. The fourth/top layer of the photo consists of slightly thicker clouds that appear purplish gray. A bright blue sky can be seen between these clouds. Silhouettes of tree branches appear from the upper right corner of the photo. They look like they've been layered over mostly the clouds in the fourth/top layer of the photo.
Back to Top of Page | Back to Art | Back to Volume 15, Issue 1 – Spring 2021
About the Artist
Amy DeLousia is a writer and an amateur photographer. She is a lover of music, surfing, and body boarding. Amy is a proud Crip and mother of two little dogs and an amazing young adult human. She holds a bachelor's degree in Human Development and a master's degree in Social Work from Binghamton University. Amy currently resides in Binghamton, New York.