CONTENT WARNING: This artwork is intended for mature audiences.
A for-what-it's-worth-darlings content disclaimer (from the artist, Angelina Blasich): This art tells a story of a woman's self-love and reclamation. There will be titties and they may sag. Vulvas are not to be avoided but referenced freely and with artistic celebration.
Core Creations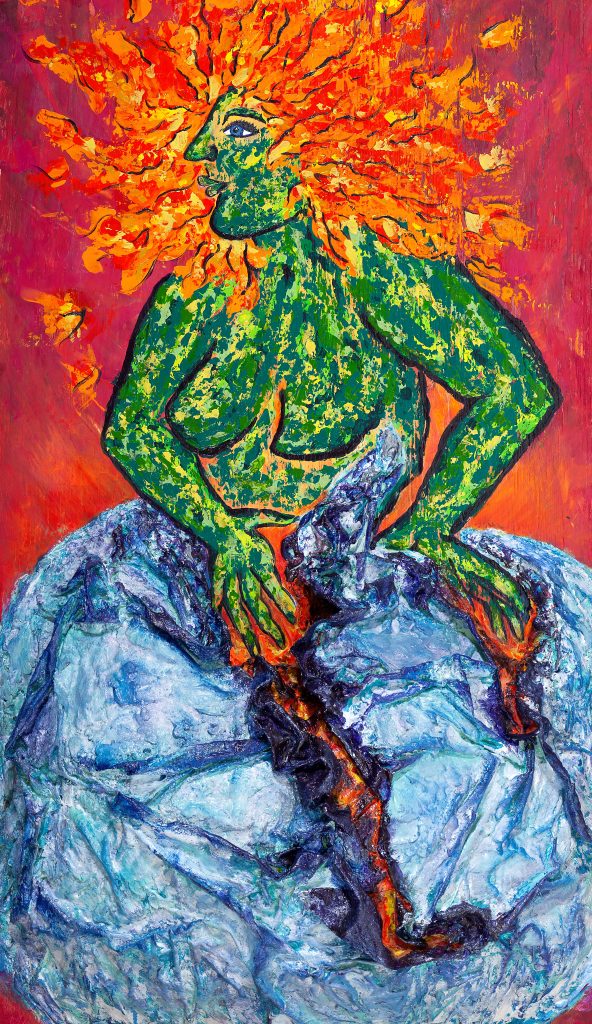 November 2020, Acrylic, tulle, plaster, & bubble wrap on wood
from her core
this molten woman rises and flows forth
rocks fluidity
making magma rivers
forging new land for the faithful
for she is faith filled and made of action
love
art
and creation
Back to Top of Page | Back to Art | Back to Volume 15, Issue 1 – Spring 2021
Big Blue Freedoms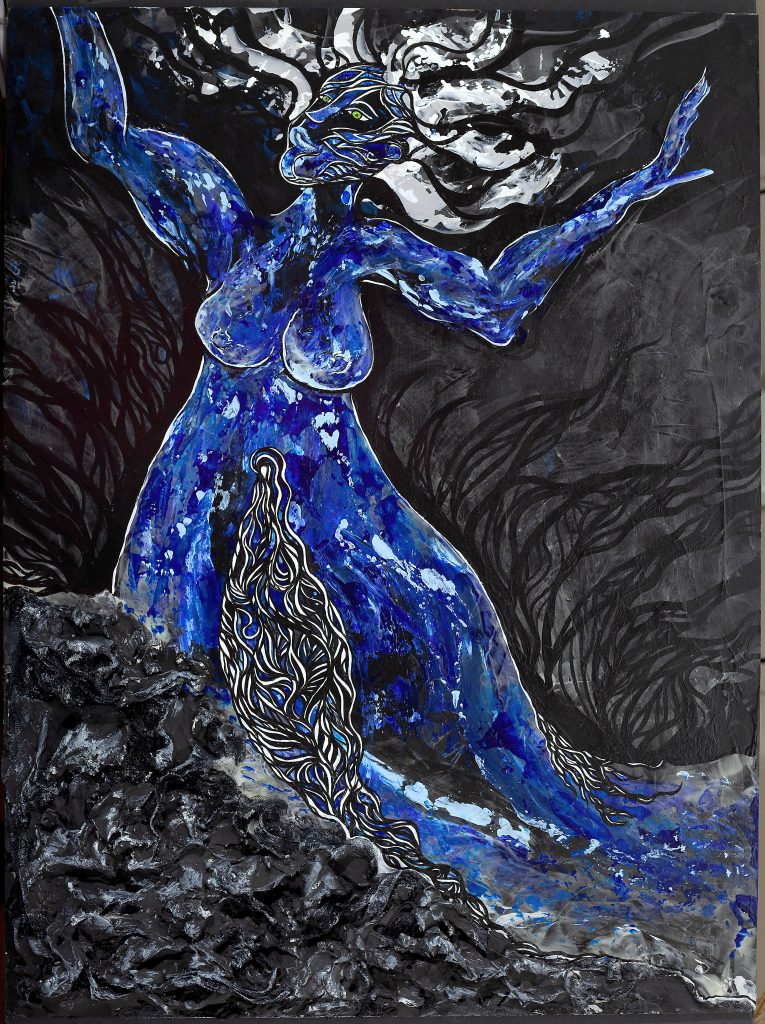 Acrylic, tulle, & plaster on wood. 
mom and her friends sat in the park
talking about orgasms
like some scam they read about
in women's day
time in bed some chore
they can now thankfully get out of
now that they are 80 something
one slipped out from behind a smile
that she is still quite satisfied
on a regular basis
everyone giggled and shushed the exception
i kept wondering if these conversations were common
in their twenties, thirties, forties
who may have gone home
and asked for more
Back to Top of Page | Back to Art | Back to Volume 15, Issue 1 – Spring 2021
Self-Portrait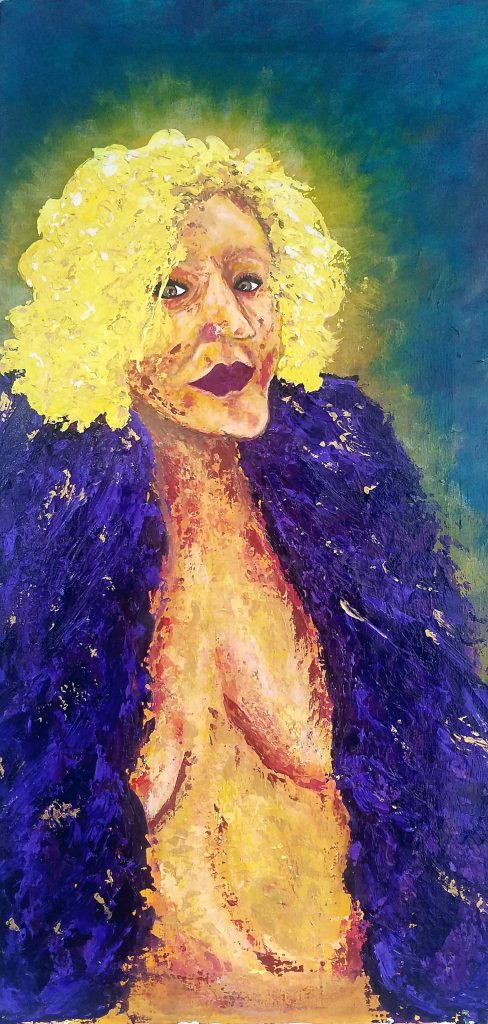 Acrylic on repurposed canvas
I call her beautiful.
I needed a new way to art. It helps me see the beauty in the everyday.
I love to camp but it's hell on the body. I went anyway. It was time to get away.
I shroomed and saw paint. Everywhere there was paint. Swirling, dancing, glowing paint. I was in it and felt free and playful. It was joyous and I wasn't afraid. I came home and offered myself these freedoms. I played with what felt fearful and celebrated what I beheld as deeply gorgeous. I didn't know much about this medium. Learning is frightening and vulnerable and messy and I was ready to play my way through, trust beyond what my vision could see and just keep going. Listening, pausing, editing, and having faith in what my muse was asking of me. 
Every painting I have made since has been one of these trust falls. Seeking the beautiful in every glimpse. Celebrating her folds and fears, her growth and the stunning nature of her imperfections. I started offering my body and representations like it the space to be so celebrated and accented them in gold. I stared at myself in the face, added extra chin, and called us all beautiful. 
Back to Top of Page | Back to Art | Back to Volume 15, Issue 1 – Spring 2021
About the Artist
Angelina Blasich is the Co-founder and Chief Ridiculator of Purposefully Ridiculous, a joy-centered public access art project that creates spaces for shared silliness and creativity. Along with professional ridiculation, Angelina holds an LMSW and operates a medical day program in Upstate NY. She has over 25 years experience as a performance and visual artist, educator, and workshop facilitator. In 2019, Angelina was delighted to share a TEDx talk in Provincetown, MA, encouraging the purposeful use of ridiculating for mental health and community wellness.